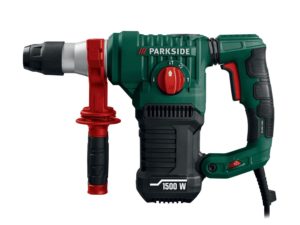 I recently buy a hammer drill from Parkside (PBH 1500 F6) and I wanted to find carbon brushes replacement directly to be sure to keep the hammer drill for a long time. The user manual tell us to send the hammer drill to a professional service repair if we want to replace the carbon brushes and do not give the reference these carbon brushes.
Then, I have removed the cover on the back of the motor and take the measurements of a carbon brush before using the hammer drill to be sure to have the correct measurement (without wear).
The dimensions (LxWxH) are 17 mm x 8 mm x 7 mm or 0.67″ x 0.31″ x 0.27″. It corresponds to the carbon brushes used in multiple BOSH device like the GBH 36V-Li, the 36VF-Li and the SDS Drill 11536).
The bosh part comes without spring like the Parkside. Now you have the reference, you can find the part easily on Ebay by taping "Bosch 1617014131".